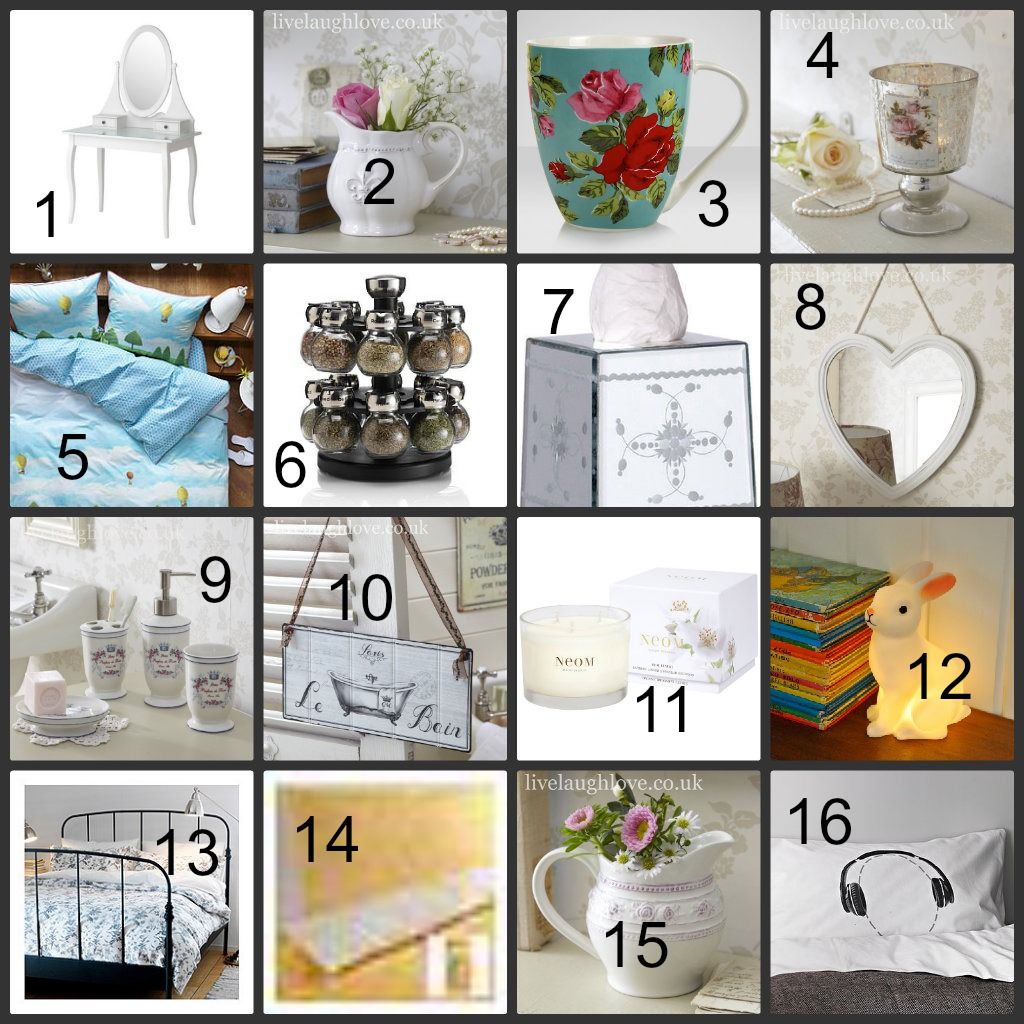 If you follow me on twitter (@laurzrah), you may have seen that I am moving in with my boyfriend next week, which is very exciting! We are moving into a nice new flat, and this is the first 'home-away-from-home' , so I have a strong urge to, for want of a better word, 'nest' and make my house a home.
Disclaimer! - I've linked the products I've mentioned, but there are no affiliate links, and I am not being paid by any of the brands to mention any of their items. I just like the stuff!
1 - First on the wish list is the Ikea Hemnes dressing table. I have for the longest time wanted a white dressing table like this, and this is so perfect. I need the £190 for it! I'm having to save up for rent at the moment as I don't have any loan at the moment, but as soon as I have saved up the rent this is first on the list! - link!
2 & 15 - These little vases are so cute, and would look gorgeous with or without flowers in them. £5.95 each, pretty good! - link!
3 - The Cath Kidston mugs are my favourite, they're the perfect size for my giant cups of tea. They're only £5 at the moment, and I think I need a couple. Link!
4 - A girl can never have too many candles, and this t-light holder looks so pretty and cute. The perfect thing to go on my new dressing table, surely? - Link!
5 - This bedding is £100 so is obviously out of my price range, but it just looks so pretty and happy! This would definitely brighten up my room, and it looks perfect for summer bedding. A girl can dream. - Link!
6 - My boyfriend and I are obsessed over this! A revolving spice rack? It just looks so swish and will definitely make our kitchen look sophisticated & and make food taste better obviously - Link!
7 - Another expensive wishlist item (£55), but this is so fabulous I can't help myself. A venetian glass tissue holder, this is so decadent and although I definitely don't need this, it doesn't stop me wanting it. The website also has loads of other Mirrored furniture (link) that I want... when I'm a rich girl. (na na na na na na)
8 - This heart mirror is so cute, I think it would look lovely in my new dining area/kitchen... I want to watch myself eat? Nah, but the heart is sweeeeet - Link!
9 - More from the same site, their stuff is good! This bathroom set is so fancy and is a definite improvement on the current mug/tooth-brush holder and Carex bottled soap that we currently have. I'm definitely feeling a French style bathroom! - Link!
10 - Continuing the French theme is this cheeky litte bathroom sign... I want to glamify the place where I wash and go to the toilet... Not sorry. - Link!
11 - A new house needs a new candle, that is a given. The Neom real luxury candle has been calling to me, as it smells amazing and the candles are pretty big so I think I'm getting some good burn for my buck. Link!
12 - This bunny light is pretty popular, and rightly so! I think it's really sweet, and as I am actually not a huge fan of the dark I like lamps... I'm a baby, don't judge me! Link!
13 & 14 - Two bedding options from trusty ol' Ikea! I like the black and white because I think they look quite classy and more expensive than they are. The yellow is so fun though, and good for summer I think! I'm imaging the yellow with a bright pink undersheet! Link!
16 - This pillow is for my boyfriend, who is a DJ(!), and loves a bit of music. I think the pillow looks good, and at least it would stop him stealing my pillows! ;) & maybe he need some 'man' stuff in our bedroom... - Link!
So those are my top picks for my new flat... obviously I'm not going to get them all, but definitely 100% the dressing table! Do you like any of these things? Let me know if you enjoyed the wishlist post! :)