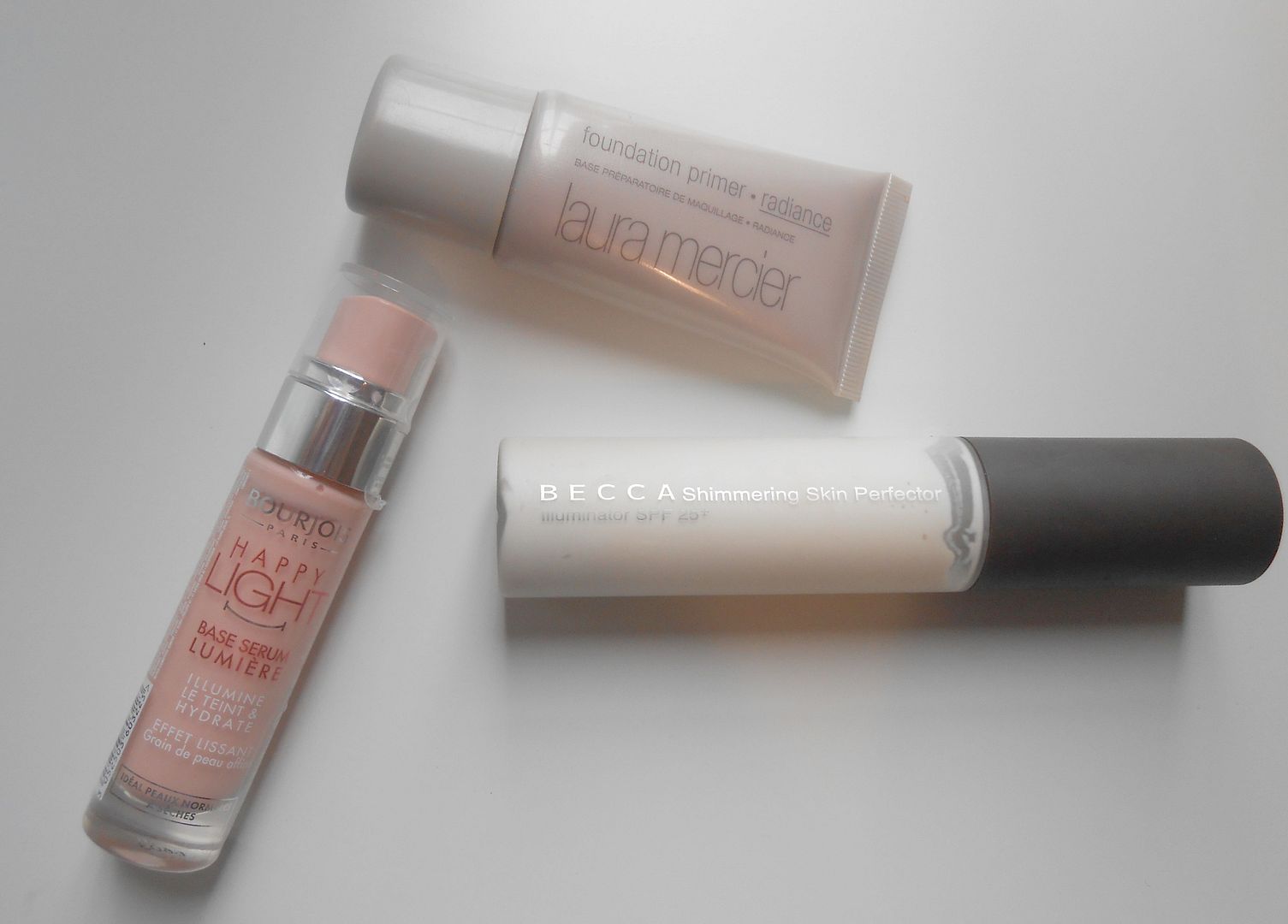 I hope I'm not alone in being obsessed with having glowy skin - highlighters are my favourite for adding some luminosity to the skin on the top of my cheekbones and under my brow bone. For when my skin is looking extra drab I like to start adding some glow before I even apply foundation...
The shimmierest award goes to the Becca shimmering skin perfector in Pearl. When my skin is looking extra dry or sad I apply this all over my cheeks prior to foundation. You can also mix this in with foundation to sheer it out, or apply it as a liquid highlighter. Everyone loves a multi-use product, non? My favourite way is to use it as a base, as I find it helps foundation apply more smoothly, and the glow it gives is really pretty. Definitely one for drier skins and lovers of shimmer. I think this would be too much on oilier skins, and it is noticeable. Link!
Second is the new Bourjois Happy light luminous primer. This is much more subtle than the Becca, so would be better for every day. I think this one is more hydrating, and the pinker tone definitely helps to brighten rather than highlight as such. If your skin looks a little sallow, I definitely recommend this. I also love how this prolongs foundation wear on drier bits of my skin, it stops my foundation going patchy in dry spots. It's also the cheapest of the bunch :) Link!
I saved the best for last, in the form of the Laura Mercier Radiance primer. I lovvve this stuff, and I've sung its praises many times in the past. I have the travel size, but it has lasted me for ages! This is a bronzey shade when you first see it, but it blends in so nicely to the skin and just delivers radiance, like it claims. I think this would work on all skin tones, and the radiance effect just seems to blur everything and make it all seem soft-focused and just lovely. Link!