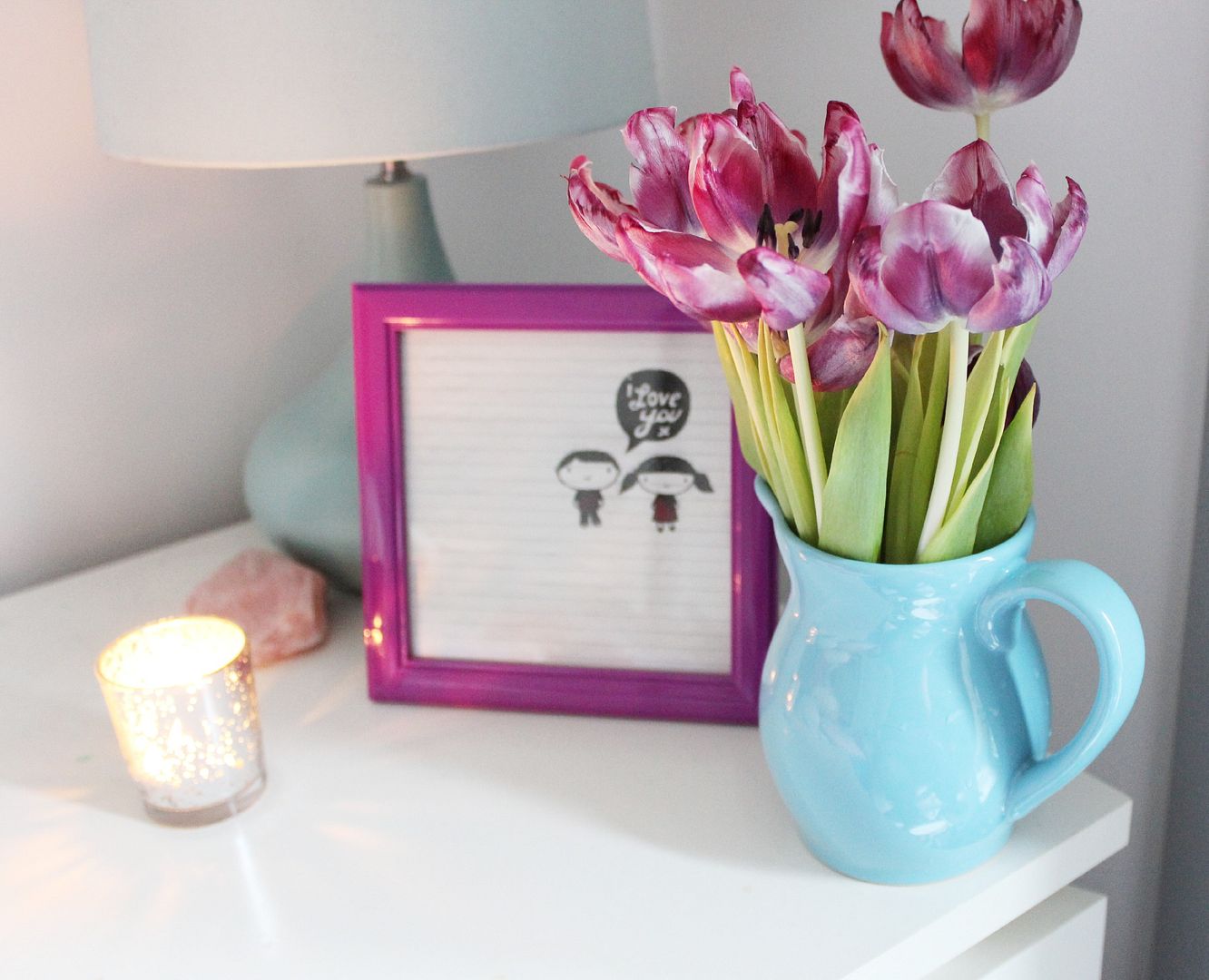 This picture makes me so happy, because it's just beautiful. Pinky purple tulips (my favourite), and my bedside table. Mmm, Spring is a comin', and I am looking forward to it. I've definitely felt more cheery the last couple of days whilst it's been brighter.
University wise, I am so swamped at the moment. I am in the midst of writing an essay about some emperors (Nero! Crazy Mofo) and have been actively making an effort to go to the library. I've also got my dissertation deadline looming, and as soon as my essay is finished I am going to seriously crack on with it. Seriously. This will be my last ever academic essay, which is a bit crazy. I feel really excited about graduating and getting a job and having more money, but also apprehensive about the change. I don't know, it's bittersweet. I need to organise tickets for my parents for my graduation & rent a gown as well... ugh, crazy. University has flown by, like amazingly fast.
Speaking of time flying by, it's my 21st birthday next month (April 30th fyi), which seems a bit insane as well. I'll be a legit adult and everything.
My boyfriend and I have also decided to not renew the contract in out flat, and we are planning a move...! Very, very excited. I will update when we have more definite plans :) It's also our anniversary fairly soon, how time flies...
Aside from a change of digs, we are going to a wedding in July & I'm sure we can squeeze in a weekend away or two, so there's plenty to look forward to for the summer. Just thinking about long lazy summer evenings (with a cheeky cider, or two) is making me happy :)
In the last 4 days I have devoured 3 books, which I love. I have been all about the academic books for a while, so the books for fun has been good. Currently reading Valley of the dolls, but any recs are welcomed...
Lastly I have been trying to make more of an effort with Youtube... check my channel out here. I'd love you foreeeever if you sub :)
So, that was a ramble and a half! If you got this far, thanks for reading! :)