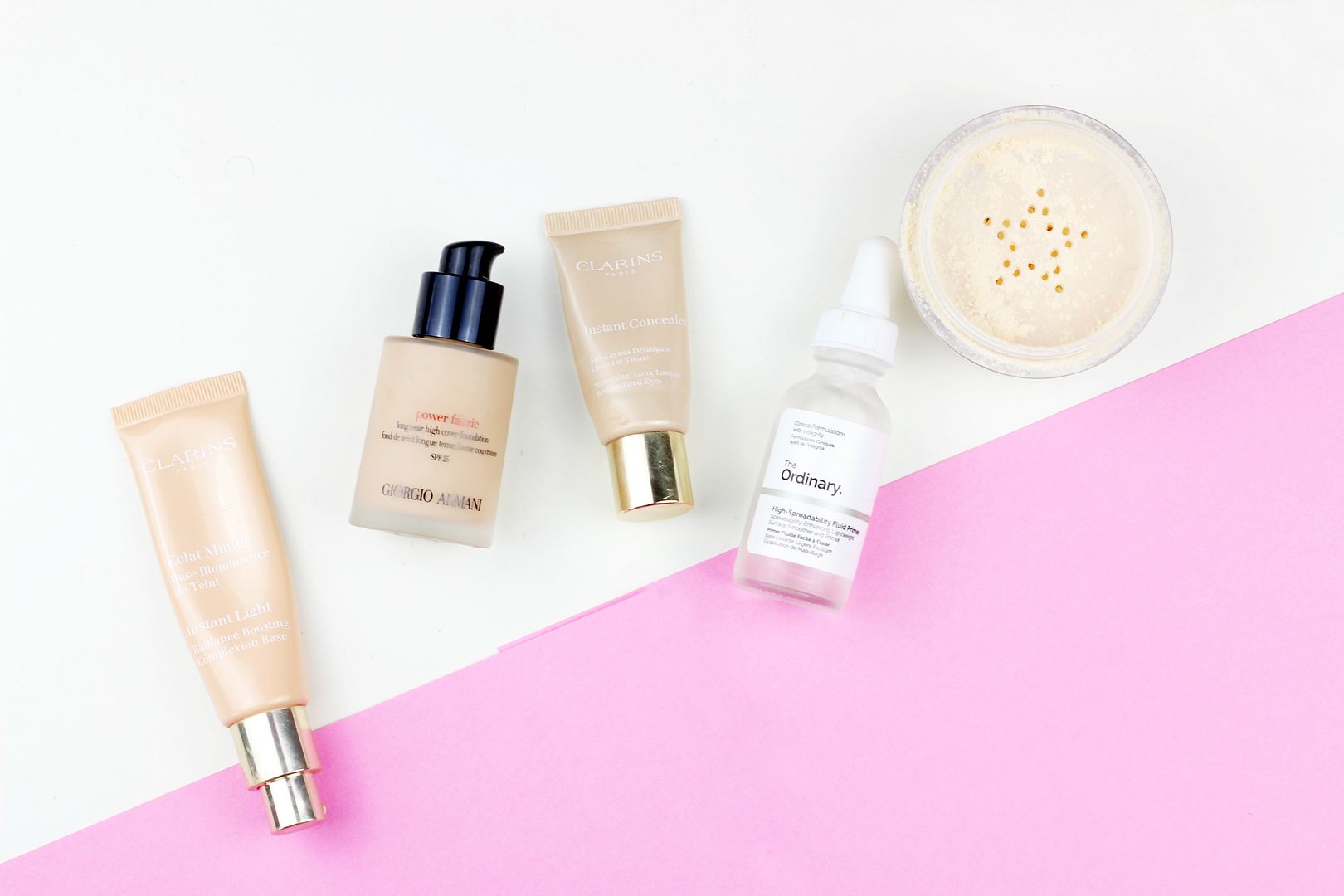 The longest part of my makeup routine is always finishing my foundation - it seems to take me so long partly because there are so many steps (#HighMaintenance) but also because I like everything to look seamless and natural so the extra five minutes is well warranted, I think. At the moment I keep going back to same five products which is a little monotonous but also means I can get ready faster because I know exactly what I'm reaching for.
I've spoken about both of these primers before but I'm going to mention them again... the
Clarins Instant Light Radiance Boosting Complexion
in champagne is one of my absolute favourites because it makes such an immediate difference to the skin and I can't say no to the double dose of colour-correction and light-boosting sheen on the skin. I just swipe it on in the morning with a tradtiional foundation brush and it takes two seconds. On the t-zone I am feeling some kind of way about
The ordinary High Spreadability fluid primer
as I've found it fantastic for mattifying the skin and making sure my nose isn't shiny come midday. I've almost finished it and the sticky texture isn't the best in the pipette bottle when it's dried up but it's too good not to use. After the double-priming action, a pump of the
Armani power fabric
blended in with a damp beauty blender (not pictured because it looks disgusting, sorry about it) takes a minute or two and then the majority of the base is done. I love this foundation because it's matte but not drying, full coverage and it lasts beautifully on the skin. Under the eyes, a liberal amount of the
Clarins Instant Concealer
blended in with the same beauty blender because it's just such a fantastic concealer and does a good job at not looking dry when I get home at 7, 12 hours after applying! With the same beauty blender (told you it was filthy), I apply some of the
Kat Von D Powder
to set concealer and on any areas where I might get oily - it's a good powder and it's really fine and silky. Applying powder with a damp blender is such a game changer, I swear. It really helps melt it into the skin and means it never looks cakey. Magic.
What base products are you obsessed with right now?