Can we get a hallelujah for the 4 day weekend? If every weekend was like this, then surely I'd have no problems and everything would be fine. So much time to catch up blogging, sleeping, eating, cleaning, sleeping, shopping, eating, netflix-binging, sleeping and... chilling in my jammies. I need a lot of rest and relaxation ok? One of the best bits about the bank holiday is how relaxed everything is. If you simple makeup that takes 5 minutes but looks legit, I've got the perfect formula.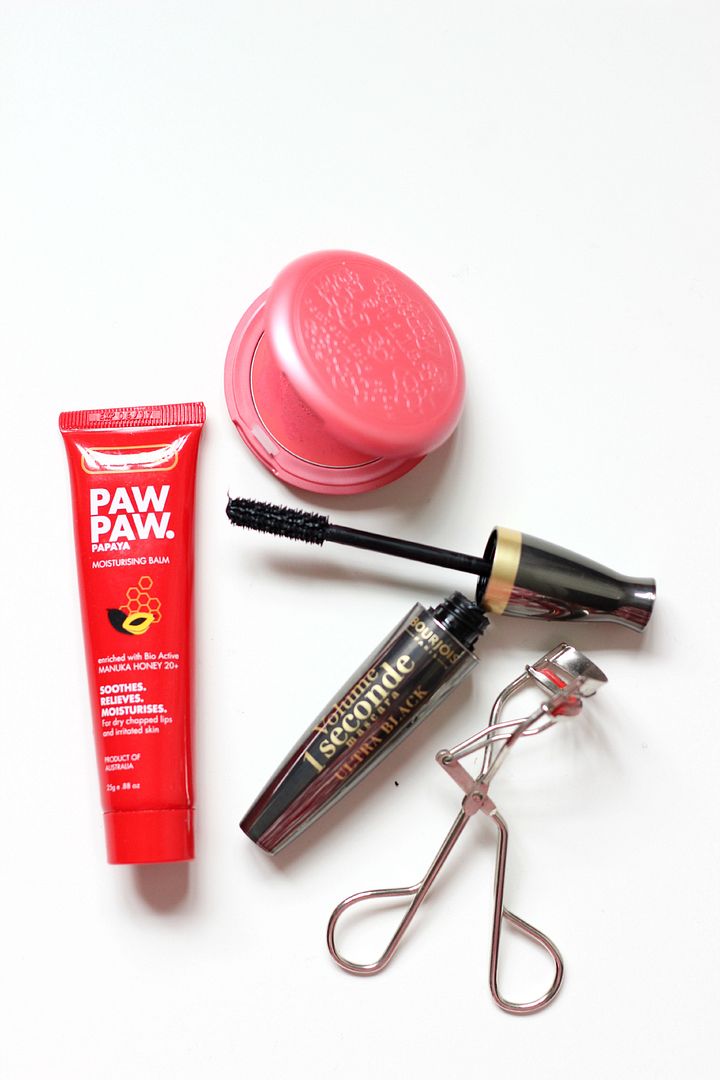 Base. All about the base. The three products that take 2 minutes to apply and can hind a multitude of sins - I won't judge - are my staples. The
NARS tinted moisturiser
is like glowy skin in a bottle. Buff it in with a flat-headed brush (trust me) and then spend all day knowing your skin is hydrated and looking nice. The
Clarins instant concealer
is some sort of dreamy creamy magic, that I use everyday but especially when I'm tired. So, everyday. Lastly the
MAC prep + prime highlighter in light boost
, that I talk about
all
the time, but it is decent stuff. Apply it with reckless abandon all over wherever you want to look light and then... you're done.
The
paw paw balm
can be used to tame eyebrows, on lids for a bit of gloss/sheen, on cheekbones as a natural highlighter, on lips to moisturiser, on cuticles to moisturise... it's heavy duty stuff. For lips and cheeks as well,
Stila Petunia
(always makes me think of Harry's aunt Petunia) is gorgeous. Not too pink or too anything, and the formula is divine. I've spoken about it a lot in the past, and I still absolutely love the Stila convertible colours. Eyes that take under a minute but make you look super awake - curl the lashes with curlers, and then put on lashings of the
Bourjois volume 1 seconde ultra black
.
Sit back, relax. Eat some more easter egg (if you have any left... by some miracle, I do), and enjoy the extra long weekend! :)