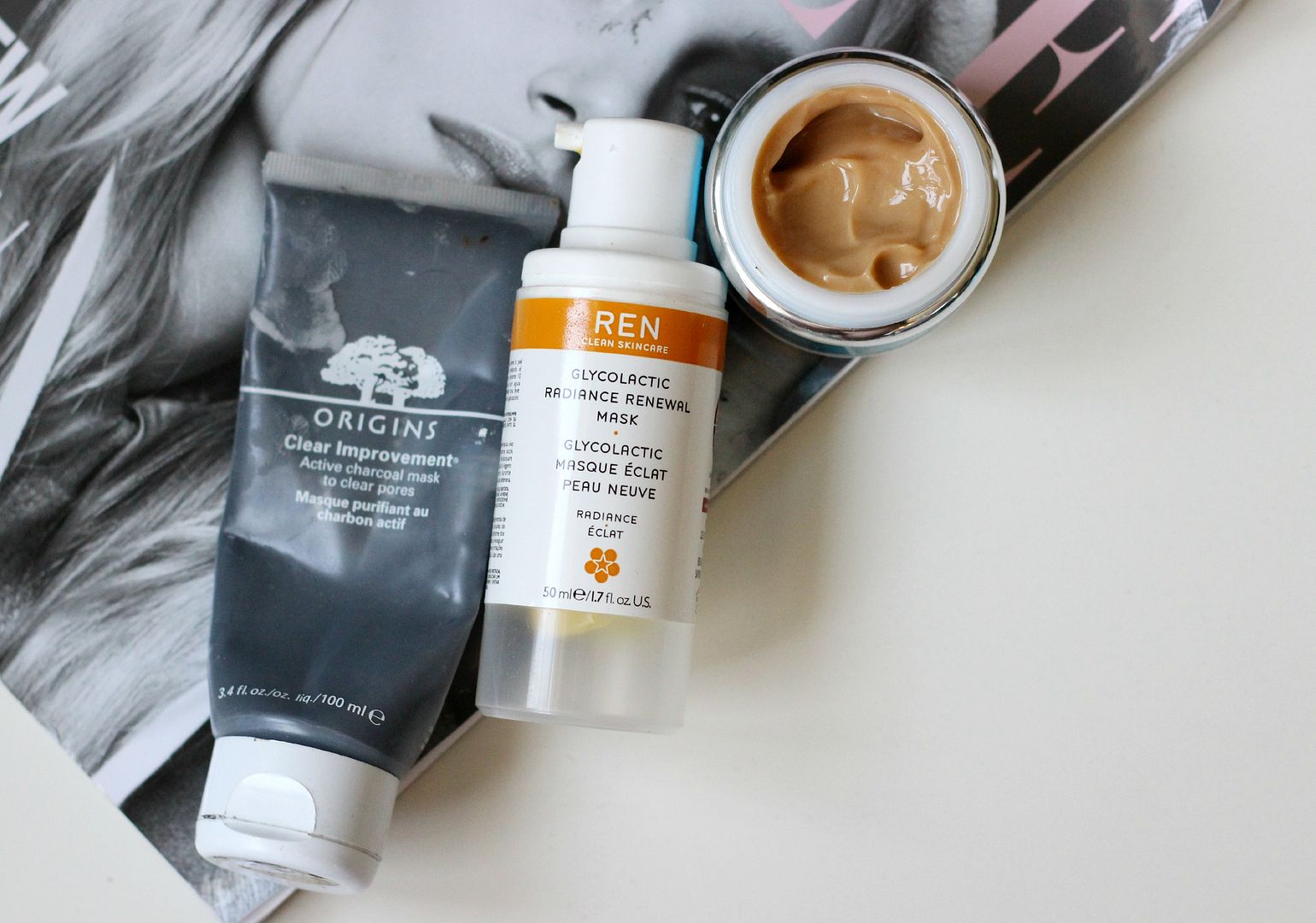 So last week 'multi-masking' seemed to be the trend of the moment, and was everywhere. I never thought that 'multi-masking' wasn't a thing as such, because it has always made sense to me that one mask wouldn't fit all. My skin isn't the same texture and type all over, so I like to mix and match to mix my skin's individual needs. How very high maintenance of me...
My skin is dry, oh so dry, on my cheeks. SO dry. Like a prune. Under my eyes as well - DRY. You get the picture. My nose and chin though? Not so much. They didn't get the memo, and so my skin there tends to get oily and if I do get spots, they'll be on my chin. Mmm.
Depending on your skin, you apply something targeted in a specific area. Such as, something clarifying where you get oily and something moisturising where you get dry. At the same time. Madness, I know. Your skin gets everything it wants that way. My skin is very needy.
I read something once that you must always exfoliate before applying a mask, to make sure your pores are open and then the benefits are ten fold. Not sure how vital it is, but I like to use the
Ren Glycolactic mask
all over and let that do its thing for 15 minutes. On my second bottle now, it's really such a good product for revealing radiance. The best clay mask I've yet to try is the
Origins clear improvement mask
- it's the colour of ink and makes your skin feel so clean afterwards. This is happily slapped all over my t zone. I think if I put it on my cheeks my face would crack into a million pieces. With moisturising masks, I have lots more options. Seen here is the
Glamglow thirsty mud
, which smells like coconut and leaves skin softened. It's not the most amazing mask I've ever tried - I like it, but I don't see amazing results afterwards. It does leave my skin feeling soothed though.
On my eyes, I like to use the
DHC revitalising moisture strips
because they feel sensational and leave my under eye skin feeling refreshed. I actually normally leave those on overnight once a week. I also use the
Origins drink it up overnight mask
one or two times a week - can't be beaten. If you ever want a product that will give you immediate results when you wake up, this is it. I always use it the night before a party or anything important.
Do you multi-mask? Or is it all a bit too much faff for you?