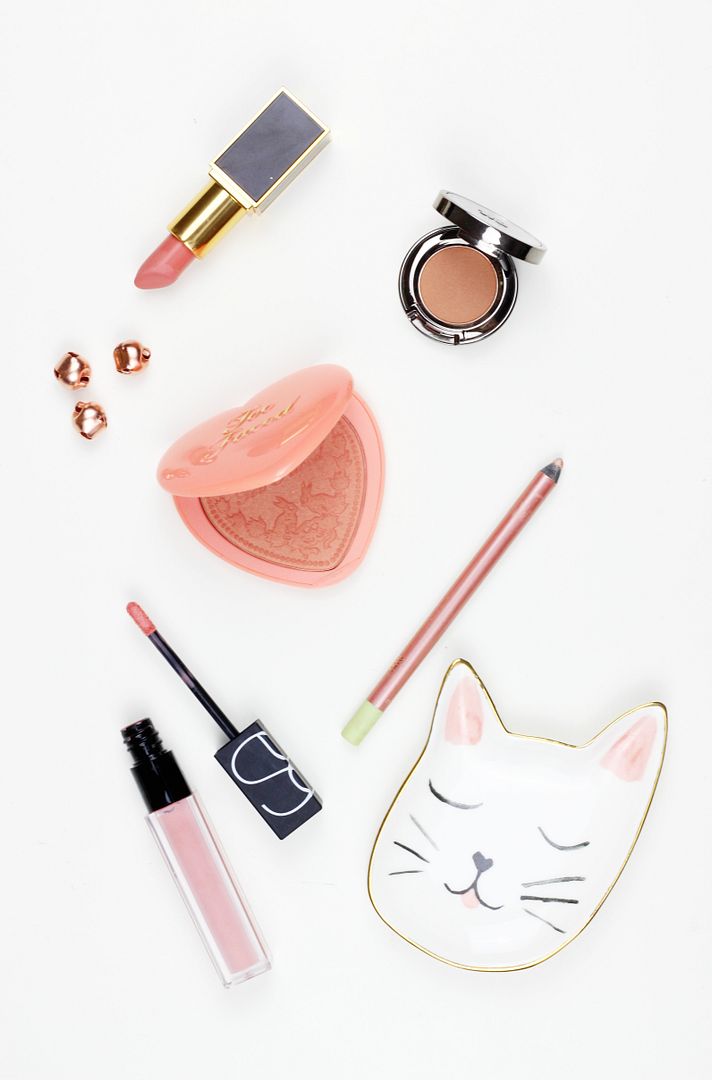 There's something so lovely about peachy tones in makeup - the shade is bright and colourful without being too loud and it manages to suit a whole plethora of skin tones. Gravitating towards peach shades means I have amassed some beautiful picks for the eyes, the cheeks and the lips.
Keeping my eyes on the prize, with two peachy eye hues that leave your lids looking fresh.
Urban Decay's Riff
is an easy one-wash wonder - you can just use a fluffy brush and sweep the shade all over the lid and it magically makes it look as though you've spent a lot of time and effort perfecting your eye makeup. I don't have too many single shadows, so the ones I do have are really stand out shades in my collection. Another peachy favourite is the
Pixi liner in opal overcoat
, which is just a dreamy used in the inner corner for something eye-brightening.
I've got two favourite lip options - a girl needs options. I love
Tom Ford First Time,
which is possibly the prettiest peach lipstick ever. It's not too stark, too brown-toned or too milky and it's really opaque on the lips so it's a look all on its own. I love the Tom Ford matte formula - it's one of the nicest I've tried and it's the perfect option for a daytime lip. Another pick is the
Nars velvet lip glide in Suck
, which is another lovely formula in that it literally does glide onto the lips and it imparts a soft wash of colour. It leaves behind a nice stain on the lips as well as fading evenly as it wears.
I could dedicate a whole thesis to all of the peachy blushes I love, because I am just addicted to the shade! I love how it brightens up the skin and complements any makeup look going. One of my absolute favourites is the
Too faced I will always love you
because look at it! It's adorable. It's a medium peachy tone that would suit so many skin tones, and the formula is the right mix of shimmery and matte. Pairing all of the tones across eyes, cheeks and lips together is my favourite for a flattering makeup look.