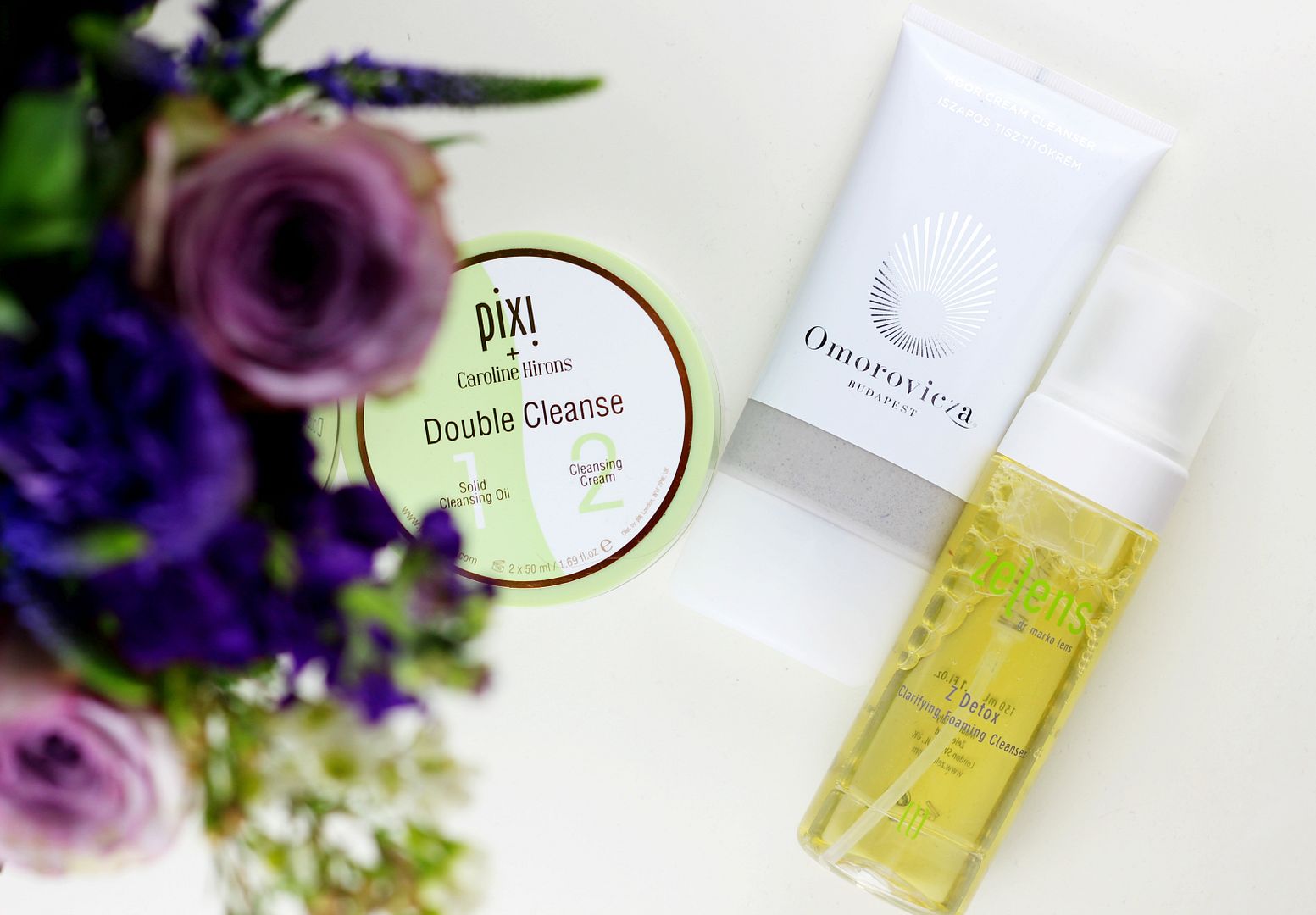 I can't remember the last time I washed my face just once - I really think once you start to 'double cleanse' and you see the benefits for the skin, you don't look back! With one cleanse (normally something oily or a balm) to get rid of makeup/sunscreen and then a secondary cleanse to really treat the skin, it's nowhere near as laborious as it sounds (and with the cleansers I use, actually something I look forward to!).
Starting with something very exciting - the actual Double Cleanser from the goddess of skincare herself, Caroline Hirons. Made by Pixi, the double cleanser is one of those products that instantly feels like something innovative. The sort of product which you're not entirely as to why someone else hadn't already made it. It's so... obvious, in the best way. One side of the ting yang shape is a solid oil (like the Clinique take the day off) which decimates all makeup. The other half is a creamy cleanser which treats the skin (the texture reminds me of the Clarins extra comfort). Together both cleansers work together to make sure your skin is thoroughly clean, but not stripped. The only quibbles would be that as with shampoo and conditioner, it's unlikely that both sides of the cleanser will be finished at the same time.
I wanted to mention two other cleansers that I'm enjoying to treat the skin after makeup is gone - a non-drying foam from Zelens and a mud cream from Omorovicza. The Zelens Z-Detox is perfect for slightly oilier or more combination complexions as the AHAs in it ensure the skin is free from pollutants and free radicals. I like this one after a long day in the city as a second cleanse, as it leaves skin feeling really smooth and clean without being dry or uncomfortable. For when my skin is feeling a little drier, irritated or needs to be soothed I am loving the Omorovicza Moor Cream Cleanser - a very exciting new release. It has all of the lovely detoxing qualities you might associate with Moor Mud (as in your typical clay masks) but the cream formula is lovely and nourishing on the skin. It feels like such a cossetting treat for the skin, and I love how soft my face feels after using this. Omorovicza is such an interesting skincare brand!
What's your favourite cleanser? Are you a fan of double-cleansing?